Welcome to n$a's home page. Very basic, but i hope you'll find the info useful.
It is usually up to date, even if not updated frequently. Last update: 2015/04

Japanese LD offers:
Please go to my LDDb shop DISCS-OF-JAPAN.
(offers generally on hyatus 2013-2014 but pls contact me for MUSE discs)


Hi-end LD Players offers:
- Pioneer LD-S9 page
- Pioneer HLD-X9 page
- Pioneer CLD-R7G page
Please click on the links for detailed info. I also provide the Pioneer HLD-X0 and DVL-H9, please enquire.
Also see my Muse Hi-Vision page and my VHD page.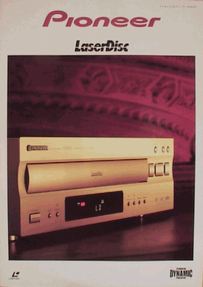 RF Demodulators offers:
YAMAHA APD-1, new in box, $270
Nearly sold out; used units available at $150 without the original box
YAMAHA APD-2, used, perfect shape, complete with box, $240
Only one used unit available. Same as the APD-1, but color is gold. E-mail for pictures. If you need a gold demodulator to match your hi-end Japanese LD deck, this is the one to get. Very few were built ! Nearly impossible to find. Same shipping as for an APD-1.
PIONEER RFD-1, new in box, $500
Several new units left; used units rarely available.
All RF demodulators listed above are Japanese domestic models running on 100V and require a transformer for operation outside Japan. Consumption is less than 10W. This small transformer costs $25, is rated 110W for Americas, 30W for Europe/Australasia, please specify which you need. Read more about RF demodulators from ThadLabs.
Also available, YAMAHA APD-1 WORLD MODEL, new in box, with multilingual manual, $300: will work with any voltage and therefore does not require a transformer. **only 2 units left as of Aug 2012**
Esoterics (Meridian, Lexicon, Kenwood) available in minute quantities, pls enquire if interested.

PRICING TABLE		price	weight		express		express
			(new)	packed		US,ANZ		EU
APD-1 WORLD MODEL	$300	1200g		$29		$33.50
APD-1			$270	1100g		$29		$33.50
APD-1 + transformer	$295	1350g		$33		$38
RFD-1			$500	1650g		$36		$41.50
RFD-1 + transformer	$525	1950g		$40		$46

EU: Europe / US: North and Central America, Middle East / ANZ: Australasia / other rates apply for Asia, Africa and South America

Express postage by the Post Office is registered, tracked and insured, signature on delivery, perfectly safe.

If choosing double boxing (extra postage cost), the Pioneer RFD-1 box will stay factory sealed; otherwise i open it to put the transformer inside (it does fit). Double boxing keeps the demodulator packaging pristine but is not necessary since the RFD-1 box is very strong and safe. Yamaha however do not factory seal their boxes and they are soft, anyway the transformer would not fit in, so the APD-1 always ships double boxed.



LD Graphics Decoders offers:

The Pioneer LG-1 is the only standalone LDG decoder to exist. Note that the connection is by composite, not S. In stock, used, fully tested, $140 without remote, or $210 superb with remote, or $280 mintish and complete in original packaging.



Please feel free to e-mail me for more info or pictures. Each and every e-mail will be answered precisely and in a timely manner.

All e-mail enquiries welcome,

I can also be contacted through eBay where my ID is n$a

Thank you,
Nicolas