HOME: n$a's LaserDisc page
PIONEER LD-S9 PAGE
Last update: 2014/09/22

Pricing grid:

year      >  USD  > situation
1996 used > $1200 > in stock without box
1997 used > $1300 > 
1998 used > $1400 > in stock without box
1999 used > $1500 > in stock with box -last one!-
2000 used > $1600  
(new Pioneer logo from here)
2000 used > $1800
2001 used > $1900 > in stock without box
2002 used > $2000

Maintenance - All used LD-S9 i sell will be brought to Pioneer Japan for a checkup before shipping out, which will result in a change of worn parts, typically the rubber parts but also in some cases the spindle motor and/or the laser pickup, that carries a 3 MONTHS MANUFACTURER WARRANTY. This service is ABSOLUTELY FREE to all my buyers. The Pioneer service and warranty slip will be forwarded to you. I am the only one to offer this invaluable service, it is probably worth several hundred dollars in added longevity to your deck before it requires the next maintenance.
Shipping express tracked insured to North America costs $250 (details below), to Europe costs $300.
Prices subject to availability. Used decks always come with remote and manual, usually with box and foam, sometimes with cables and batteries, are in perfect working order and excellent cosmetical shape.
This model was discontinued by Pioneer as of February 1st, 2002. Recent used decks are hard to find, because the production numbers decreased a lot after 1997.
The LD-S9 is the top-of-line Pioneer player (apart from Hi-Vision models such as the HLD-X9), only sold in Japan and never exported officially. It easily beats all models that ever were on sale in North America or Europe, including the Elite CLD-99, thanks mostly to the use of an advanced, second generation High Resolution 3D Y-C separation filter. This player only handles LDs (12" and 8"), not CDs nor DVDs, and the clamping mechanism is optimized for this duty, instead of being a compromise between all formats. The aluminum turntable is said to enable a better pickup of the RF signal. You'll just be amazed at the quality of the picture, especially if upgrading from an older model. On CLV discs, it will display the frame number (from 0 to 29) and the field (1 or 2). If you have a large collection of LD, this is the player you need to get the most out of them. Needless to say, it has all possible outputs (two sets of S, composite, stereo; AC-3 RF; coaxial and optical), can read LD Graphics and has "Theater mode" for a quick side turn. Remote and all screen info in English.
Specifications:
Video: S/N ratio 52 dB, 425 lines, NTSC
Audio: S/N ratio 117dB, dynamic range 99 dB
General: 38W, 100V, 10.2kg, 440x144x432mm whd

Be sure to check the excellent LaserDisc Forever website for a short comparison of high-end models and other interesting LD-related info.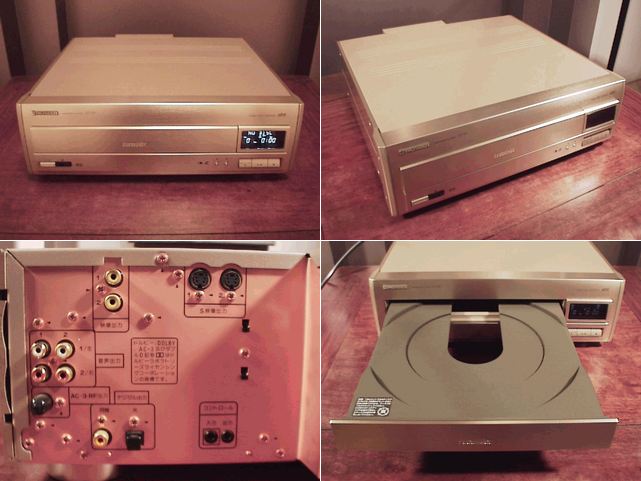 Pictures taken from a previously sold deck.


---

Voltage. Japan runs on 100V, i can provide a perfect 110W step-down transformer for North America at $25, offers ample safety with a large power margin (the LD-S9 is rated at 38W), will ship at no additional postage along with the deck. A 220~240V transformer (130W model) for Europe/Australia is $50. A bigger 320W model for North America is available for $50.

Manual. The only official owner's manual is in Japanese. You'll probably find you don't need any help for operating this deck. I'll be available for support should you have any questions you can't figure out the answer to. This is one of the players i use myself and i can immediately find out what you mean.

Packaging. If present, the S9 will ship out in its original box, double-boxed to give extra protection. If the Pioneer box is not available, i will pack the S9 in a very strong box of mine.

Shipment. Rates are for express tracked insured postage, delivery 3-5 days:
- S9 with Pioneer box, double-boxed (15kg): $250 to North America/Australasia, $300 to Europe
- S9 without the Pioneer box, single-boxed (15kg): $250 to North America/Australasia, $300 to Europe

Payment. USD, CAD and EUR are accepted, usually by bank wire to my account in the USA, Canada or France. This is very fast and totally secure.

US Customs. Importing video reproducing equipment into the US from Japan, whether magnetic or optical, is not subject to any duty. For proof of that, please see the Harmonized Tariff Schedule of the United States, select chapter 85, and go to heading 8521.90.00, column "1" (column 2 is for imports from embargoed regions). To other countries, taxes may be levied, they are to be borne by the buyer: please e-mail me for details.

No hidden or unexpected charges, no custom processing fee, no duty to pay, no document to fill out on your end when shipped to the USA. To minimize risks and costs, this is sent directly from Tokyo, not through Hong-Kong or a third country.

To buyers not located in North America. Please contact me before bidding for shipment and voltage-related questions. I do accept payments in Euros.

All e-mail enquiries welcome,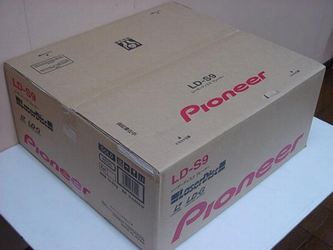 Present LD-S9 packaging by Pioneer; previously the box was white.



Free counters provided by Andale.