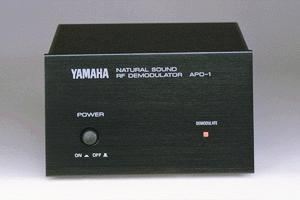 HOME: n$a's LaserDisc page
YAMAHA APD-1 PAGE
FOR PRICING AND POSTAGE COSTS, PLEASE GO TO MY MAIN PAGE, CLICK HERE.

Yamaha APD-1 "Natural Sound" RF Demodulator, new-in-box. This is what you need to process an RF-encoded Dolby Digital 5.1 LaserDisc signal when your amplifier or receiver does not have an RF input: most LD players have the RF output, but very few amps have the RF input, making this small unit a necessary step between the two. Here is how it connects in your AV system:
- APD-1 input: by coaxial cable (supplied) from an LD player's "AC-3 RF Out" jack
- APD-1 output: by coaxial cable and/or optical (Toslink) cable to an amplifier's "Dolby Digital In" or any jack that supports DD 5.1
Simple and straightforward ! The APD-1 is small, only about 10x6x13 cm. It has a power switch on the front, and a "Demodulate" indicator that is lit when an RF signal is being processed. No tuning or setup required, it is plug and play. Everybody who bought one so far has been extremely satisfied. This model was made for the Japanese domestic market but will work all the same in any country.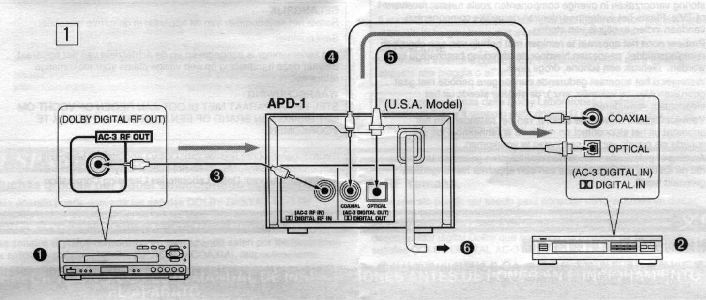 The APD-1 comes complete with AC cord (not detachable) and one coaxial cable. The instructions are in Japanese, but for you convenience i will include a full copy of the export model instructions, in English, as .jpg files by e-mail, if you need them. The APD-1 is cased in its' original Yamaha box, which will be protected for shipping by double-boxing.

This unit operates on 100V, a transformer is necessary for use outside Japan (pictured below, center), will ship along the unit at little extra postage. Please specify the voltage you have (Americas' 110-120V or Europe's 220-240V).


Pictures of contents taken from a previously sold unit. When unpacked, yours will be exactly similar.